Uploadcare File Upload and Edit on the Fly
Plugin Description:
UPLOADCARE PLUGIN

First : register for free on Uploadcare. You can log directly wih your Github or Google account. Easy peasy.
This plugin was made by 'Andrejus Semionovas + Olivier Franchi'. (Andrejus aka ASEMION)
Purpose of this plugin: Externalise your images, edit on the fly. URL transformations. No need for Photoshop.
You can upload files of any kinds and sizes from many sources including cloud storage providers and social media. Scalable file API for web and mobile apps. Optimize your content, conversions, load times, traffic, and user experience. Free Plan forever (100Mo storage).
My use case : OVH Start10 Host + Uploadcare
For my projects, i got myself into a "sobriety" challenge : Put Getsimple CMS on a ten megabytes host. Up to 50 pages and 30 plugins. Challenge done.
Ten MB is very tiny and i needed some tool to take care of my images, externalize uploads. The host is free forever when you buy a domain name. Which brings your costs to the minimum (less than 10$ Per Year!) You get free host very good quality (10MB) + 1 e-mail (5GB).
Hosting plan information in this link
By the way, Uploadcare allow to make gallery too. Look at the documentation.
Feel free to talk with Uploadcare, they offer great free support.
Hope you like it, please rate.
Install Instructions:
Simply unzip the plugin into your plugin folder, and activate in the plugin management page.
Then you have to add your Key see image :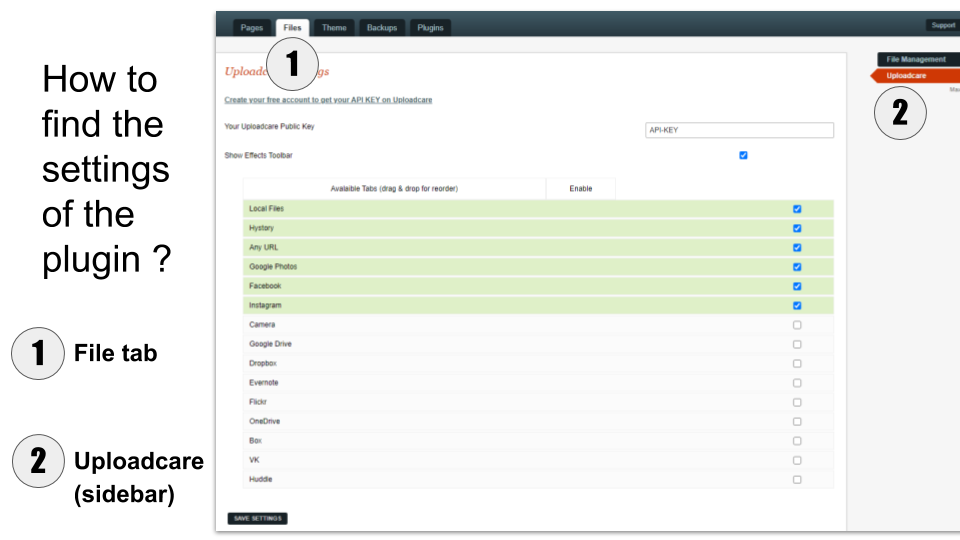 There is a field where you can enter your Public Key. This step is crucial for the plugin to work.
After the Key :
Then you can start using it directly in your page edition by clicking the yellow circle like so :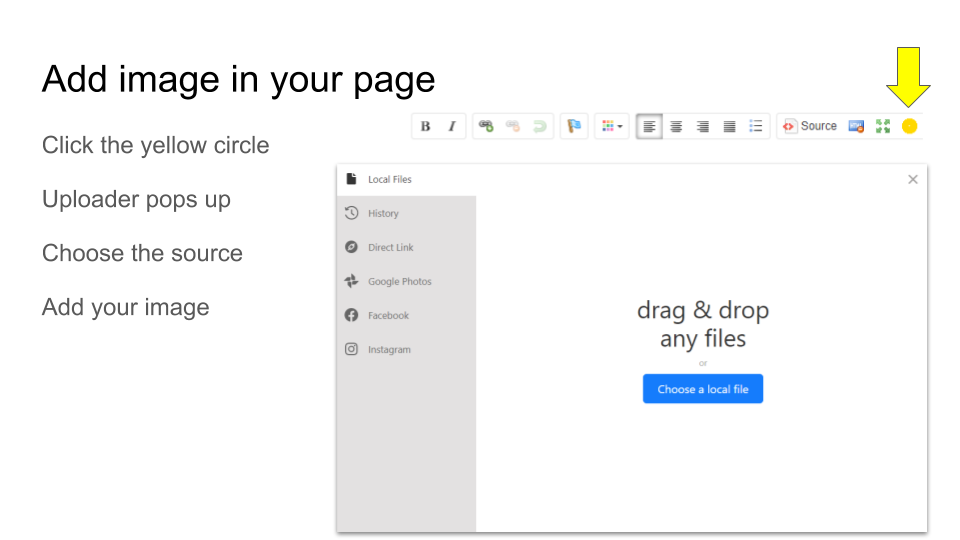 NOTICE: Images that you Upload through the widget are stored in your Uploadcare account.
Archived Versions:
These are old versions of this file. Please use with caution as they are probably out of date and no longer supported. Show