nanoGALLERY4GS
Plugin Description:
Image gallery plugin.
A powerful and easy to setup GetSimple plugin for displaying image galleries, with support for pulling in Flickr, Google Photos and Google+ photo albums. Mobile-friendly and responsive. Images are shown as clickable thumbnails, which will expand to full view via a modal popup window. Support custom themes.
Google Photos albums must be public. To manage the visibility of your Google Photos, please us nanoGPVisibility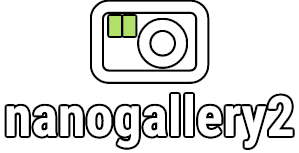 new major release available: nanogallery2 portable
Fork me on Github
Features
thumbnail layout: grid, justified or cascaded
display albums and images stored on your Flickr, Picasa or Google+ account (only public images)
automatic thumbnails
display images in full page with slideshow feature
Display image captions and descriptions
Breadcrumb for easy navigation in photo albums
multiple galleries on the same site/page
responsive, mobile device friendly
themes
numerous thumbnails animated hover effects (combinations possible)
no HTML knowledge required
GetSimple image storage versus Flickr, Google Photos, Google+
Some advantages on using an online photo sharing website and nanoGALLERY:
Any photo published to your online photo sharing site is automatically added to your website
Huge bandwidth saving and fast photo downloading
You do not need to upload images manually to your site
Support photo upload via mobile device
Display photos on your website with your custom design
Automatic thumbnail generation
-
Note to Flickr user: Flickr has changed it's API on June 27th, 2014. You must update to v4.4.2 to continue to access your photostream.
-
Usage
To display an image gallery insert a code like this one in a page :
(%nanogallery userID=PicasaUserID%)

Replace PicasaUserID with your Picasa/Google+ user ID. Syntax is case sensitive.
Example
(%nanogallery userID=cbrisbois@gmail.com%)

---
Demonstration >> view
Full plugin documentation >> view
---
History
v4.4.2a - fixed parse issue with Google / Picasa
v4.4.2 - new : swipe support, thumbnail display mode justified (thumbnailWidth=auto) and cascading grid layout (thumbnailHeight=auto), new thumbnails hover effects, new theme
v4.0.2 - new : 30 thumbnails animated hover effects (combinations possible) / display images faster (thanks to pre-loading) / Boostrap compatible
v3.1.3 - new : themes
v3.1.2 - bug fix multiple galleries on one page, new : javascript is now a jQuery plugin
v3.1.1 - bug fix for IE on Windows Phone (thanks Gregor!), new option to force load jQuery
v3.1.0 - added support of Flickr
v3.0.1 - first public release
Screenshots
Install Instructions:
Download the zip file. Extract the content of the zip file into the 'plugins' directory.
Archived Versions:
These are old versions of this file. Please use with caution as they are probably out of date and no longer supported. Show