2018-12-14, 20:49:37 (This post was last modified: 2018-12-14, 21:51:23 by multicolor.)
Hi,
some time ago i create post "botstrap grid on ckeditor", Oleg and few users found for me fixes for this. I try many solusions and
i found solution create block bootstrap in ckeditor bootstrap. 
How i Create this:
I install
custom admin css
 plugin and i hide sidebar in edit mode. content where is ckeditor i resize to 100%.
On gsconfig in wysywig options i turn on div block, and templates option ckeditor.
I create a few templates uses col-md-6, col-md-4 in default.js on admin/template/js/ckeditor/plugins/templates/templates/default.js 
In my theme gs, i create editor.css and import cdn bootstrap.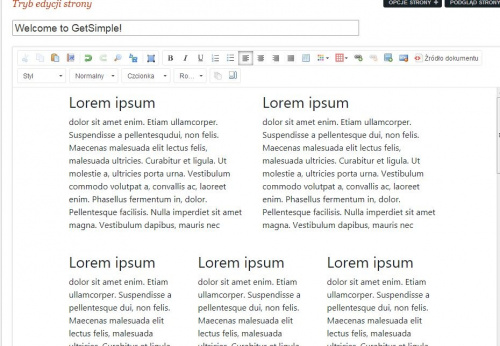 This is final effect. I want share this with us, because i love this cms. Problem is, i cant create plugin get simple. Anyone  want create such plugin?
when i final style.css and template i can share all on this.
Sorry for my english, i hope all understandable.